Our Partnerships.
Your Perks.
As a premier sponsor of the OU Alumni Association, Sooner Station is proud to offer residents the following spirited perks!
Annual membership to the OUAA as part of your residency at Sooner Station.
Speaker Series: enjoy monthly lectures from OU professors on various topics from their current classes.
Field Trips: coordinated trips to OU campus for gameday, event series, performing arts exhibits and more.
Premier access to OUAA events, including Boomer Bash, Reunion & Homecoming Weekend events, Medallion Club events, Sightseeing Sooners Travel Showcase and more.
Additional gameday events hosted on-site in our club and activity rooms.
Transportation to all OU campus events.
Score these Other Sooner Station

Community Benefits.
Elevated Dining.
Savory Meals. Social Setting.
Mealtime is a social activity at Sooner Station. You'll enjoy delicious food, friendly conversations and a welcoming, social atmosphere. Dining experiences and flavorful menus are personalized to your individual tastes with input from YOU through our "Food for Thought" collaborative meetings each month. 
The skilled Sooner Station culinary staff can accommodate most any dietary needs and restrictions to help you live the spirited, healthy lifestyle you want. All menus are certified by a registered dietitian to guarantee the nutritional integrity of each and every meal.
Enjoy delicious meals, served with a side of spirited conversation, with our Elevate Signature Programs:
Elevate Inspires: a partnership with residents and local charities to give back to the greater community through meal programs.
Chef's Academy: a spotlight on the exceptional talent of our culinary staff through cooking exhibitions, educational culinary demonstrations and even resident cook-offs.
Culinary Keepsakes: an immersive dining experience broadens culinary horizons and brings a cultural connection to mealtimes for 

the entire community.

Traditions-to-Table: a glimpse into your neighbors' time-honored culinary traditions and signature recipes.
Vibrant Life.


Live Spiritedly. Live Vibrantly.
The key to spirited living at Sooner Station is our signature Vibrant Life program. This innovative program gives you the chance to connect with your neighbors within the Sooner Station campus as well as with friends, family, and the greater Norman community through optional outings that you create and plan based on your interests, preferences and personal  routines and abilities.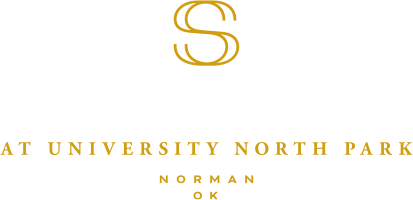 Studio, 1 BR & 2 BR Floorplans to
Studio, 1 BR & 2 BR Floorplans
to Suit Your Needs.
Residents enjoy spirited, premier amenities including:
Sooner Station is

Currently Recruiting Spirited Residents.
Contact us today for more information on our community,  floorplans and to pre-select your apartment!